So excited it's May!!!
We are linking up with Farley!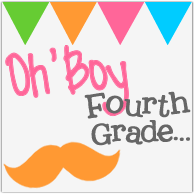 We just might crack the top 100 link ups. :)
Emily will be typing in orange!
Antoinette will be typing in blue!
You know why??
Because I LOVE blue and I love the KC Royals and they are having a great start to the season!
But I love them every year...
Win or lose...
Yeah, Gary Lezak (a Kansas City local weatherman) is predicting a dusting of snow tonight. I don't think Mother Nature knows it's supposed to be spring. I guess it hasn't snowed in May for the past 100 years.
I am loving reading professional literature.
These are currently my two faves!
Loving the ideas. Just used the poetry one this week!
It is as if she and I are having a conversation about reading notebooks.
Especially love the part about post its!
My dad is having carotid artery surgery later this month.
He had this surgery 20 years ago, and the doctor's have decided it's time to clean them out again.
I am trying to be strong for him. He isn't going to tell me he's scared, but he is.
The part I hate is the ICU after surgery. It gives me flashbacks of seeing him that way when I was 9.
I know God will protect him.
(Sorry to be so serious. : / )
I am wanting the next 21 teaching days to go by quickly!!
The 5th graders have senioritis. They are too cool for elementary school.
I like them, but not their hormones!
Who loves giving end of the year assessments?
I want to know how much my students have learned, but all the end of the year assessments take the fun out of the end of the year. We are giving 5, in addition to our state assessment.
This summer will be a lot like the last summer.
Grad school, home DIY projects, and relaxation.
I also plan to read for fun and get my tan on!
We will likely go camping, too.
I had an ankle surgery this year. I have put in 5 months of physical therapy, and now I am ready to work out. I signed up for a water walking (aerobics) class!
Hopefully this will be my last summer home alone, next year I would love to have the pitter-patter of little feet to be home with me. (That and grad school will be there next year too!)
So I have a one track mind and my currently is focused on my vacay to Gulf Shores, Alabama!!
Ya Buddy!
I am loving my time here.
I have another post ready with pictures and details,
but want to get the Currently out first.
As Emily said, hoping to make it in the top 100 link ups.
Usually we're around 300... lol
So here's my Currently.
My summer bucket list includes many things...
But my number 1 goal is to keep on losing weight.
I have lost 51 lbs since August and am excited about it.
I actually went swimsuit shopping and wasn't depressed afterwards.
I still have a long ways to go...
But LIFE IS GOOD!!! :)
Be looking for my next post with lots of pics from my vacay! :)
Hope you enjoyed our Currently.
Looking forward to checking out many of yours, also.
Antoinette and EmilyK